Andrew Caddell Agrees to Pilot Kaufmann Mustang in 2009
Mustang Challenge Champion is back with a New Hot Rod
Port Hueneme, Ca. February 23, 2009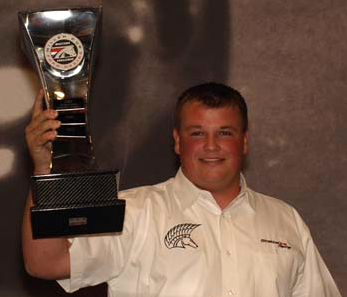 Team Principal Chris Kaufmann was pleased to announce Andrew Caddell, the current Mustang Challenge World Champion, has agreed to campaign the Kaufmann Racing FR500S Mustang in the 2009 season.
In a unique effort to get the champ back in the series Kaufmann offered the car that Hot Rod editor Rob Kinnan wheeled with Kaufmann in the inaugural 2008 season. "We watched, raced against and worked with Andrew and his father, Roger last year. We were impressed with Andrew's rare combination of talent, maturity and humility.
During the off season, we observed Andrew and began discussing the potential of racing together. Over the years in my racing with Jack Roush, Bob & Bill Glidden, Kenny Bernstein, John Force and Paul Gentilozzi, I have seen a common thread. These champions integrated youth with experience to forge success. If you include Roger Caddell, Andrew and me, we almost cover three generations of racers."
"This Mustang series is the brain child of Larry Miller, who sadly passed away last week. In an effort to carry on his dream, we are going to do everything in our power to get as many cars to these races as possible. It is a fantastic series with a ton of talent behind the wheels. Larry Miller was one of those rare individuals who gave back so much, to so many. His need for speed was alive until the end and he leaves a big hole in our hearts, but we know he wanted us to keep racing. That is part of the Larry Miller Legacy," continued Kaufmann from their Southern California headquarters.
Andrew Caddell added, "I look forward to defending my championship in the Ford Racing Mustang Challenge. The series was fantastic last year and is promising to be even more competitive and successful in 2009. I am even more excited to be teaming up with car owner Chris Kaufmann for the 2009 season, his experience with over 40 years in racing and his long background with Ford Racing will give us every opportunity to make the 2009 season successful."
Kaufmann Racing and Andrew Caddell are looking forward to the return of many of their 2008 sponsors, while also looking for a Major Sponsor to back the Champ in 2009.
First two races will be at Homestead, Florida on March 18 & 19, 2009.