Caddell Finishes Second in Second Race of Miami Double Header
03-15-09
Fuel, transmission and brake problems dampened the hope for a win in the second race of the double header season opener at Homestead this weekend.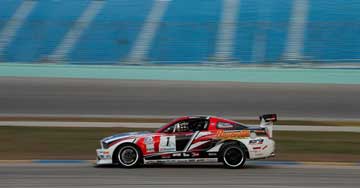 Caddell qualified second behind hard charging Ted Anthony in the TC Motorsports machine. Andrew was second at the start and stayed there for the whole race, getting as close as .8 seconds behind Anthony but was unable to close the gap.
In the closing 4 laps Andrew was on a pace to catch Anthony, but the engine started missing as he was running out of fuel. Oddly, the 3rd and 4th place cars had fuel problems as well. Andrew got the car across the finish line 3.133 seconds behind Anthony on a track that started off damp and dried out after the first few laps. Mike McGovern rounded out the podium in the #55 Jim Click Racing entry.